Debates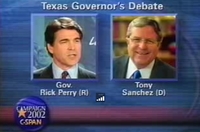 Wednesday, Oct. 9, 2002

in Houston (Video)

Thursday, Oct. 24, 2002

in Dallas
In the News
Perry was eager to debate the first time he ran for governor.
The Austin American-Statesman said on Aug. 7, 2002:
The debates between Republican Gov. Rick Perry and Democratic challenger Tony Sanchez will play out in miniseries format.

But the premiere will not come as early as Perry would like.

"I'm ready to start next week," he said Tuesday in calling for a series of debates, "and hope Mr. Sanchez will step from behind his multimillion-dollar attack advertising campaign and join me at these debates."
The Dallas Morning News said on Sept. 13, 2002:
Although Mr. Perry has lobbied for as many as 11 other debates, the Sanchez campaign responded that two probably will be it.

… [a Perry spokesman] said such [rural] areas have unique problems that deserve the candidates' attention, and Mr. Sanchez's decision "to limit debate is a slap in the face to rural Texas."
DÉJÀ VU: In the Fort Worth Star-Telegram on April 16, 2002:
"We can't really have this debate until Mr. Sanchez opens up his private affairs, his tax schedules, to the public," Perry said.
In the Debates
Rick Perry: "Mr. Sanchez, you shouldn't feel good. You shouldn't feel good when the federal authorities tell you that there is drug money that came into your bank, in cash, in suitcases. And then you sent the money to Panama, at the request of those drug dealers."
Rick Perry: "I've been elected statewide more times than [Sanchez] has voted in the past decade."
Tony Sanchez: "He's been bragging for the past year about all of his experience. He's been in there 17 years. He's a professional politician. My question to him is this: If he has so much experience, and has spent so much time in government, and knows so much about it, how come we have some many problems in Texas?"